Keynote Speaker Amy S. Hess
Executive Assistant Director Criminal, Cyber, Response and Services Branch, Federal Bureau of Investigation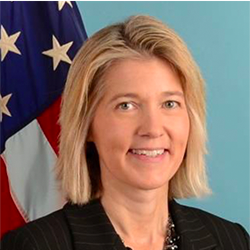 In September 2018, Amy S. Hess was appointed as Executive Assistant Director of the FBI's Criminal, Cyber, Response and Services Branch. In this role, she oversees all FBI criminal and cyber investigations worldwide, international operations, critical incident response, and victim assistance.
Ms. Hess began her career as a Special Agent with the FBI in January 1991. She has served in the Kansas City, Louisville, Phoenix, and Memphis field offices, in addition to a deployment to Afghanistan overseeing the FBI's counterterrorism operations. Her assignments at FBI Headquarters have included leadership positions in the Inspection Division, International Operations Division, and National Security Branch, as well as the Operational Technology Division in Quantico, Virginia. In 2014, Ms. Hess was promoted to the position of Executive Assistant Director over the FBI's Science and Technology Branch, composed of the Operational Technology Division, Laboratory, and Criminal Justice Information Services Division. In 2016, she was appointed to serve as the Special Agent in Charge of the Louisville field office, with responsibility for all FBI personnel and operations in the Commonwealth of Kentucky. A native of Jeffersonville, Indiana, Ms. Hess holds a degree in Aeronautical / Astronautical Engineering from Purdue University.