Keynote Speaker Gary Warner
Director, UAB Center for Information Assurance and Joint Forensic Research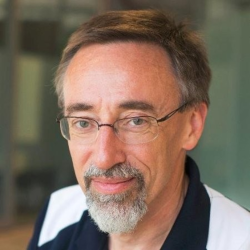 Gary Warner is Director of Research in Computer Forensics at the University of Alabama in Birmingham (UAB). He is also Director of the UAB Center for Information Assurance and Joint Forensic Research, a world-class research center noted for expertise in combating all forms of Cyber Crime. Since arriving at UAB in 2007, Warner has created and taught a variety of classes in Computer Science and Justice Sciences related to Cyber Security and Computer Forensics. More than 150 students have worked as employees or volunteers in the UAB Computer Forensics Research Lab, which was established in March of 2010, serving the community by assisting in investigations for many companies, including Microsoft and Facebook, as well as law enforcement agencies. In 2012, inventions and patents from the lab were licensed to create Malcovery Security, acquired in 2015 by PhishMe, where Warner serves as Chief Threat Scientist.
Warner's passion is fighting cybercrime and training others to do so. To that end, Warner serves as a Board Member of CAUCE, the Coalition Against Unsolicited Commercial Email, and partners with CAUCE to provide law enforcement training internationally.
Meet Our NCS 2019 Speakers
Jocquette Blue
Senior Cybersecurity Analyst
H2L Solutions
Ms. Paige Boshell
Managing Member
Privacy Counsel LLC
Teresa Chalkley
Paul Coggin
Cyber Security Research Scientist
Financial Institution
Brian Contos
CISO
Verodin
Randall Cottrell
Chief Executive Officer
Bluejireh Incorporated
Joshua Crumbaugh
Chief Hacker/Chief Operating Officer
PeopleSec® LLC
Ben Curry
Chief Architect, Managing Partner
Summit 7 Systems
Byron DeLoach
Director of Adaptive Services
Cybriant
Major Bradley Eames
47CTS OL-A Deputy Commander
47 Cyberspace Test Squadron
Mr. Scott Edwards
President
Summit 7 Systems
Shawn Edwards
Cyber Adversarial Engineer
The MITRE Corporation
Irene Garcia-Goan
Sr. Cybersecurity Analyst
H2L Solutions
Jonathan Hard
Chief Operating Office and President
H2L Solutions
Sean Hopkins
Red Team Security Engineer
Millennium Corporation
Dr. Dr. Michaela Iorga
Senior Security Technical Lead
NIST
Charlene Mowery CISM, PE
Vice President of Global Business and Marketing, Cybersecurity SME
Ultra Electronics, 3eTI
Ms. Sonia Mundra
President
Chenega Analytic Business Solutions, LLC (CABS)
Michael Portera
Information Security Manager
Deloitte
Kell Rozman
Security Software Engineering Senior Manager
Toyota Motor North America
Brian Ruf
FedRAMP PMO SME
FedRAMP/GSA
Greg Schaffer
Principal
vCISO Services, LLC
Winn Schwartau
Chief Visionary Officer
Winn Schwartau LLC
Mr. Wes Widner III
Senior Cloud Engineer
CrowdStrike
Attend NCS 2019 to meet and hear speakers like this! Be among the first to know when registration opens.
Sign Up Now