Keynote Speaker Nicole Beckwith
Senior Cyber Intelligence Analyst, GE Aviation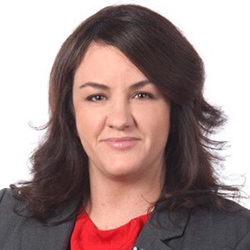 Nicole Beckwith is a Sr. Cyber Intelligence Analyst for GE Aviation where she and the intelligence team research and mitigate new and existing cyber threats to keep the company and its employees safe. Nicole has dedicated her life to fighting online threats and combating cybercrime.
As a former police officer and federally sworn U.S. Marshal, she worked as a fraud investigator and digital forensic examiner for the State of Ohio and a Task Force Officer for the United States Secret Service in their Financial and Electronic Crimes division.
Nicole was trained by the United States Secret Service at the National Computer Forensics Institute in digital forensics, network investigations, network intrusion response, and virtual currency investigations. She has worked with numerous local, state and federal law enforcement partners on criminal investigations including the FBI's public corruption unit and Homeland Security Investigations (HSI). Recently, Nicole developed two cybersecurity training programs, teaching more than 1600 officers how to respond to cybercrime and over 4400 government employees on information security best practices. Nicole is an international speaker recognized in the fields of information security, policy, and cybercrime, and is also Ohio's first certified female police sniper.
In her spare time, Nicole volunteers as a reserve police officer with the City of Germantown Ohio, assisting the detective section, and continues to train police officers on investigating electronic crime and how to collect and preserve digital evidence.
---
Attend NCS 2020 to meet and hear speakers like this!
Register Today!