Keynote Speaker Robert Lee
CEO, Dragos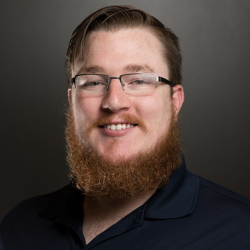 Robert is a recognized pioneer in the industrial security incident response and threat intelligence community. He gained his start in security as a U.S. Air Force Cyber Warfare Operations Officer tasked to the National Security Agency where he built a first-of-its-kind mission identifying and analyzing national threats to industrial infrastructure. He went on to build the industrial community's first dedicated monitoring and incident response class at the SANS Institute (ICS515) and the industry recognized cyber threat intelligence course (FOR578).
Forbes named Robert to its 30 under 30 (2016) list as one of the "brightest entrepreneurs, breakout talents, and change agents" in Enterprise Technology. He is a business leader but also technical practitioner. Robert helped lead the investigation into the 2015 cyber attack on Ukraine's power grid, he and his team at Dragos helped identify and analyze the CRASHOVERRIDE malware that attacked Ukraine's grid in 2016 and the TRISIS malware deployed against an industrial safety system in the Middle East in 2017.
Robert is routinely sought after for his advice and input into industrial threat detection and response. He has presented at major security conferences such as SANS, BlackHat, DefCon, and RSA and has testified to the Senate's Energy and National Resources Committee. As a non-resident national security fellow at New America, Robert works to inform policy related to critical infrastructure cyber security and is regularly asked by various governments to brief to national level leaders.
Meet Our NCS 2019 Speakers
Jocquette Blue
Senior Cybersecurity Analyst
H2L Solutions
Paige Boshell
Managing Member
Privacy Counsel LLC
Wayne Burke
Vice President and Co-Founder
Cyber2 Labs, LLC
Paul Coggin
Cyber Security Research Scientist
Financial Institution
Brian Contos
CISO
Verodin
Randall Cottrell
Chief Executive Officer
Bluejireh Incorporated
Joshua Crumbaugh
Chief Hacker/Chief Operating Officer
PeopleSec® LLC
Ben Curry
Chief Architect, Managing Partner
Summit 7 Systems
Robert Decicco
MD
Digital Intelligence
Byron DeLoach
Director of Adaptive Services
Cybriant
Bryan Dickens
Chief Operating Officer
Cybint Solutions
Nicholas Downer
Systems Security Engineer/Instructor
Millennium
Major Bradley Eames
47CTS OL-A Deputy Commander
47 Cyberspace Test Squadron
Toni Eberhart
Executive Director
Urban Engine
Rita Edwards
Featured Cyber Security Instructor
CyberProtex
Scott Edwards
President
Summit 7 Systems
Shawn Edwards
Cyber Adversarial Engineer
The MITRE Corporation
Irene Garcia-Goan
Sr. Cybersecurity Analyst
H2L Solutions
Travis Green
Miss SueAnne Griffith
Research Engineer
University of Alabama Huntsville
Jonathan Hard
Chief Operating Office and President
H2L Solutions
Mr. Christopher Hawkins
Director of Business Development
Scalable Network Technologies
Matt Henson
CEO
Trade Collaboration Engine
Sean Hopkins
Red Team Security Engineer
Millennium Corporation
Jason Hough
Director of Information Security
Mission Multiplier
Dr. DJ Hovermale
Senior Cyber Operations Training Analyst, Principal
SAIC
Chris Hutto
Jr. Cybersecurity Engineer
Mission Multiplier
Dr. Michaela Iorga
Senior Security Technical Lead
NIST
Ray Kelly
Security Architect
Micro Focus
Ben McGee
CyberProtex
Featured Cyber Security Instructor
Dr. Wesley McGrew
Director of Cyber Operations
HORNE Cyber
Chris McLain
Information Technical Department
Honda Manufacturing of Alabama, LLC
Jamie Miller
CEO/President
Mission Multiplier
Charlene Mowery CISM, PE
Vice President of Global Business and Marketing, Cybersecurity SME
Ultra Electronics, 3eTI
Sonia Mundra
President
Chenega Analytic Business Solutions, LLC (CABS)
Dr. Charline Nixon
Dean
EC-Council University
Dr. Ashley Podhradsky
Associate Dean and Associate Professor
Dakota State University
Michael Portera
Red Team Security Engineer
Millennium Corporation
Jonathan Risto
Robert Rounsavall
Co Founder
Trapezoid, Inc.
Kell Rozman
Security Software Engineering Senior Manager
Toyota Motor North America
Antonio (Tony) Rucci
Director, InfoSec & Threat Intelligence
GRIDSMART Technologies
Brian Ruf CISSP, PMP
FedRAMP PMO SME
FedRAMP/GSA
Greg Schaffer
Principal
vCISO Services, LLC
Dr. David Schippers
Chair - Assistant Professor
Walsh College
Jake Schneider
Director of Cyber Technologies
GaN Corporation
Winn Schwartau
Chief Visionary Officer
Winn Schwartau LLC
Jeffrey Shapiro
Senior Cyber Operations Training Analyst, Principal
SAIC
Dr. Joshua Stroschein
Training and Academic Outreach
Open Information Security Foundation
Mr. Jeff Uphues
CEO
DC BLOX
Trevor Vaughan
Vice President Engineering
Onyx Point, Inc.
Paul Wagner
Assistant Professor of Practice
University of Arizona
Dr. Brad Wardman
Head of Threat Intelligence
PayPal
Peter Weishaar
Enterprise Learning Specialist
ITProTV
Mark Whigham
Instructor
Calhoun Community College
Wes Widner III
Senior Cloud Engineer
CrowdStrike
Shirley Zhao
Principal Program Manager, Product Security Governance
Blackberry
Roy Zur
CEO and Founder
Cybint Solutions and New York Center for Cyber Security
Attend NCS 2019 to meet and hear speakers like this!
Register Now