2018 Cyber Cup Challenge
Nearly 25 students and 12 professional teams from throughout the Tennessee Valley and across the country competed for the Cyber Cup Challenge. Competition was fierce and awards distributed totaled $14,000. Two female students who were late entrants and said they joined "just for the experience" scored 300 points without preparing to compete. They outscored adult professionals and other college teams that competed. Both were also offered internships by Cyber Protex.
A special high school event at the Summit had 16 student participants. Three students who also competed in the Cyber Cup Challenge represented Grissom High School and took home the 2nd place prize. The students that attend the high school event are not cyber beginners – they are pursuing knowledge and skills outside of their classroom experience.
Academic Category Winners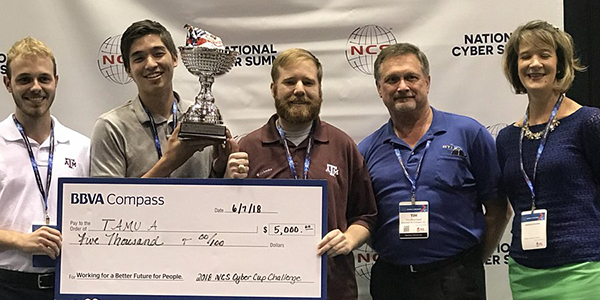 1st Place – TAMU A $5,000
2nd Place - $G33KS $3,000
3rd Place - Binary Code $2,000
Professional Category Winners
1st Place – Cyburity $2,000
2nd Place – Booz Allen $1,100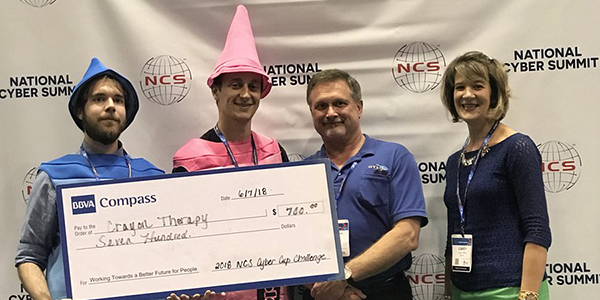 3rd Place – Crayon Therapy from Raytheon $700
Academic Category Standings
| Team Name | Score | Time Remaining |
| --- | --- | --- |
| TAMU CyberSecurity A | 700 | 0:36 |
| G33K | 700 | 0:28 |
| Binary Oposition | 600 | 2:34 |
| TAMU CyberSecurity B | 600 | 0:28 |
| NDSU Cyber Bison | 500 | 0:43 |
| Jay.json | 400 | 2:00 |
| Cyber Bios | 400 | 1:16 |
| Cyberknights Silver | 400 | 1:08 |
| NDSU Cyber Bison GRN | 400 | 0:53 |
| Autolock | 400 | 0:28 |
| BritLyn | 300 | 2:23 |
| 404 Found | 300 | 2:15 |
| Advanced Sec Labz | 300 | 1:29 |
| HHS 180 | 300 | 0:40 |
| Rowan University CTF | 300 | 0:00 |
| Team UAT | 200 | 2:16 |
| Cyberknights_1337 | 200 | 1:37 |
| NDSU Cyber Bison Blk | 200 | 0:35 |
| BET | 100 | 2:53 |
| Cyber Padawans | 100 | 2:48 |
| Cybernauts | 100 | 2:46 |
| Hackslash | 100 | 2:29 |
| Cyberknights_Purple | 100 | 1:04 |
Professional Category Standings
| Team Name | Score | Time Remaining |
| --- | --- | --- |
| Cyburity | 1300 | 2:09 |
| Booz Allen | 1200 | 0:00 |
| Crayon Therapy | 500 | 0:14 |
| Rookies | 300 | 0:44 |
| GCU | 100 | 2:16 |
| Smiley Face Image | 100 | 2:11 |