News
June 17, 2019
Army leaders discuss information warfare, modernization at Huntsville summit
By Mr. Bill Roche (Army Cyber Command) | army.mil
Army leaders discussed the development of Army information warfare capabilities and the importance of collaboration and partnerships to that evolution with representatives of military services, the tech industry, academia, and other governmental and non-governmental agencies at the National Cyber Summit in Huntsville, Ala., June 4-5.
Lt. Gen. Stephen G. Fogarty, commander of Army Cyber Command; Brig. Gen. Jennifer G. Buckner, director of Cyber, Electronic Warfare, and Information Operations, Headquarters Department of the Army (G-3/5/7); and Col. Nichoel Brooks, Army Futures Command director of Intelligence, spoke with summit participants about the integration of information warfare functions and Army modernization.
Read more
.
---
June 7, 2019
Cyber security 2019: It's about business, not about consumers
By Lee Roop | ai.com
In the same week millions of Americans were warned twice about new risks to their online data, nearly 2,000 cyber security experts met in Alabama to talk about computer security.
There were a lot of messages and a lot of data shared, but two thoughts stood out. "To some degree, everybody's at risk" and "nobody cares."
The risk warning came from Dr. Wesley McGrew, director of cyber operations for HorneCyber, a subsidiary of the national accounting firm Horne LLP. McGrew was talking in an interview about modern risks to large and small businesses.
Read more
.
---
June 6, 2019
Cyber expert pinpoints the simple things we can do to prevent stolen information in the digital universe
By Christine Mitchell | WHNT.com
Cyber companies big and small attended the National Cyber Security Summit in Huntsville this week to showcase what they can do in the world of cyber security. And believe it or not, the same problems that affect national defense and global security are the same problems that can affect you.
"Individuals are customers of large businesses, every service you use on online carries your personal data, and are the targets of these threat actors," Dr. Wesley McGrew said. McGrew is the Director of Cyber Operations for HORNE Cyber.
He shares a few of the most simple things we can do to prevent stolen information in the digital universe.
Read more
.
---
May 24, 2019
The Connectivity Center
Global cybersecurity spending is dynamic, to say the least – $170 billion by 2020 is the current projection – but as the National Cyber Summit (NCS) unfolds,we still see little reason to doubt this forecast. Yet, with all this attention, effort, and funding, the front door of cybersecurity stands open, even as we ingeniously devise protections for the invisible points of entry. Focusing on invisible solutions for invisible threats might seem logical, but it has led to a peculiar and illogical condition.
Together, access and connectivity – the very focus of the conference – frame the unguarded physical sector of the cybersecurity perimeter. The actual data ports and connectors that turn computers into networks and data into information systems are wide open in most applications, even today. This is the open front door.
Read more
.
---
May 16, 2019
Auburn's Frank Cilluffo testifies before House committee on threats from foreign-owned enterprises
ocm.auburn.edu
Frank Cilluffo, director of Auburn University's McCrary Institute for Cyber and Critical Infrastructure Security, testified before the House Committee on Transportation and Infrastructure Thursday, saying foreign-owned enterprises pose a critical threat to our national transportation and critical infrastructure networks. He told the committee of the potential significant consequences to U.S. economic power, military strength, innovation and jobs, noting current vulnerabilities, consequences of those vulnerabilities and solutions.
Full Testimony
Frank Cilluffo will be a Keynote Speaker at the National Cyber Summit. Don't miss out on this opportunity to hear him speak - register today!
---
April 2, 2019
National Cyber Summit 2019 in Huntsville AL, Open for Registration
By Tammy Waitt | americansecuritytoday.com
Come to the 11th annual National Cyber Summit and be the first to see innovative research and technologies that are changing the face of cyber industries, on June 4-6 at the Von Braun Center in Huntsville, Alabama, one of the nation's most innovative cyber-security technology events.
The Summit has a 10-year history of bringing together government, industry and cyber professionals from across the nation, and connecting senior cyber-tech leaders to those just starting in cyber-tech fields.
Read more
.
---
March 6, 2019
National Cyber Summit Job Fair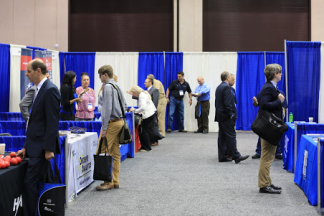 The National Cyber Summit Job Fair is a terrific opportunity for cyber security pros to meet recruiters and hiring managers from leading employers. This aspect of the Summit gives job seekers access to key contacts all in one room.
To make the most of these opportunities you need to plan ahead and put some strategies into place to create the best possible impression. Whether you're currently seeking a job or scoping out future possibilities, your goal should be to put your best foot forward and network with as many people as possible.
Follow these strategic ideas for job fair success.
Read more
.
---
February 26, 2019
How Hackers Take Over Your Account Using Social Engineering
Joshua Crumbaugh, CEO of PeopleSec and upcoming speaker at National Cyber Summit in 2019, visits with CSC News, and shows just how easy it is to take over a person's account through social engineering. Crumbaugh proceeds to change the user's account, add additional services, updates pin numbers and passwords.
National Cyber Summit is the nations' most innovative cyber security-technology event, offering unique educational, collaborative and workforce development opportunities for industry visionaries and rising leaders. Our core focus is on two things: accessibility and connectivity.
To learn more about social engineering and how to protect your company from being a victim of a hack, be sure to register for this year's NCS June 4th through the 6th at the Von Braun Center in downtown Huntsville, Alabama.
To see the full story visit:
https://www.youtube.com/watch?v=Ck_r2GYLdCI&feature=youtu.be
---
January 31, 2019
Getting Ready for the National Cyber Summit in Huntsville
By Steve Johnson | WHNT.com
Cary Pool, National Cyber Summit Director for this year's event was recently interviewed by WHNT19 News Anchor Steve Johnson. Mr. Pool discusses hacker tactics, techniques, and procedures and that hackers will persist to get into your system(s).
This year's summit will take place June 4th through the 6th at the Von Braun Center in downtown Huntsville, Alabama.
Pool states the objective of the Summit is "to get all the industries together so we can learn from each other and we can be stronger together to defend this nation".
To learn more, click
here
.
---
January 17, 2019
The National Cyber Summit is back for 2019, and bigger than ever! Huntsville's CBS affiliate, WHNT News 19, recently spoke with NCS President, Cary Pool about Cybersecurity in today's landscape and the upcoming NCS event.
To read more about NCS2019, please visit
https://whnt.com/?s=cyber
.
---
June 24, 2018
By Judy Darwin
Think about the average day in the life of many Americans. They wake up, likely with a cell phone alarm, and turn on the TV to catch some news on a "smart" TV. While making breakfast, they discover they're short on a few key ingredients for dinner, so they ask a virtual assistant to order some groceries for delivery.
Read more
.
---
April 12, 2018
Register today to participate in the 2018 Cyber Cup Challenge
The Cyber Cup Challenge is back at the 2018 National Cyber Summit June 5-7 at the Von Braun Center in Huntsville, Alabama, with more than $14,000 in scholarships and prizes available to winning teams! The event aims to inspire technical skillset development through fun security-focused competitions and is open to high school students, college students and professionals.
Teams will participate in one of three rounds. Each round will be four hours (8-12, 1-5 on June 6 and 8-12 on June 7). The top three teams from those rounds will win the 1st, 2nd, and 3rd place in each of the two categories (Student and Professional).You may have multiple teams from the same institution or company.
The Cyber Cup Challenge is sponsored by BTI and the U.S. Army ROTC.
Regardless of your background, this year's event will provide an excellent opportunity to have fun, learn, and test your abilities to effectively navigate today's challenging cyber environments, while also networking with industry leaders.
To register and view more information, visit
https://www.nationalcybersummit.com/Program/Cyber-Cup-Challenge
---
April 9, 2018
Cyber Job Fair to be held on June 6 during National Cyber Summit in Huntsville
The demand for cyber security professionals is ever increasing. A local effort to reduce that employment gap and connect cyber security professionals and students with employers is the National Cyber Summit Cyber Job Fair, held Wednesday, June 6, from 11 a.m. to 3 p.m., on the second day of the National Cyber Summit at the Von Braun Center in Huntsville.
The Cyber Job Fair is a hiring event for cleared and non-cleared cybersecurity professionals as well as college-level students in a cybersecurity degree program. Hosted by ClearJobs.Net and CyberSecJobs.com, the job fair features national and local employers filling cyber security positions including Decisive Analytics, Deloitte, Fulcrum, IBM, Parsons, Pacific Northwest National Laboratory, SAIC, Scientific Research and more.
For more information and to register, visit
https://www.nationalcybersummit.com/Program/Cyber-Job-Fair
---
March 15, 2018
New Cyber, Engineering Magnet School Coming to Huntsville
Alabama state senate has approved a bill to establish the Alabama School of Cyber Technology and Engineering in Huntsville. It will operate as a public magnet school for students in grades 7-12, and any student from Alabama can apply for admittance.
"Our goal is to establish the best cyber engineering high school in the nation," said State Sen. Arthur Orr. "Huntsville is the perfect location — the Tennessee Valley has one of the highest rates of engineers per capita in the country, and there are dozens of brilliant engineering faculty members and graduate students at the University of Alabama in Huntsville."
The Alabama School for Cyber Technology and Engineering will eventually have an enrollment of approximately 300 students from around the state.
"With the Marshall Space Flight Center and Redstone Arsenal, Alabama is at the forefront of engineering and technological research," said Gov. Kay Ivey. "(The school) will position Alabama as a leading education hub for cyber research and engineering in America. I appreciate Senator Orr's leadership in moving this bill through the Alabama Senate."
---
March 8, 2018
National Cyber Summit Celebrates International Women's Day
The National Cyber Summit celebrates International Women's Day with Elena Kvochko, Renee Wynn, and Margaret Isler- just a few of the amazing women speakers to meet and learn from at the 2018 National Cyber Summit!
Elena Kvochko is a cybersecurity thought leader. She has authored numerous publications and reports and has contributed to Forbes, The New York Times, Harvard Business Review, and other media outlets.
Renee Wynn is the chief information officer at NASA and has had a long career in the federal government. She has managed program administration for science, information management, and international programs; regulatory management; budget formulation and execution; contracts, grants and interagency agreements; long term strategic planning and analyses; and environmental and administrative policy.
Margaret Isler is the head of risk at Google Technical Services. She previously served as a senior associate at Booz Allen Hamilton.
Check back soon on
www.nationalcybersummit.com
as more speakers will be announced for this year's event!